Hey there! Welcome to Zippy Opinion where we reward every consumer. If you are here, it either means that you are a Zippian looking to increase your Zippy Points, or you are a prospective Zippian who wants to know more about our platform before joining. We at Zippy Opinion have a rewards program designed to ensure that you maximize the rewards you earn online. Through our rewards program, we provide every Zippian with 10 means through which he can maximize his Zippy Points. Read on to find all the ways you can maximize your rewards.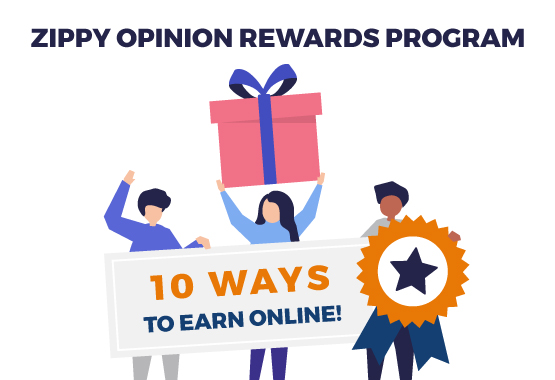 We don't like to leave any Zippian's kitty empty. As soon as a member successfully completes his/ her registration and becomes a part of our global consumer panel family, between 25 and 275 Zippy Points are rewarded. Sounds neat, doesn't it?
You have joined Zippy Opinion, you have received your 25 Zippy Points. What's next? Well, we reward you for completing your profile. We collect simple details regarding your lifestyle, occupation, etc. to aid us in connecting you with only relevant surveys. You can earn a maximum of 125 Zippy Points by completing your profile.
Please note that we do not ask for personal details such as your bank account number or other government IDs.
In-App Registration Bonus
By now you already understand, we at Zippy Opinion reward you for almost all your actions on our platforms. We have our Android and iOS apps. Installing these apps and registering to Zippy Opinion through the app will result in the addition of a further 100 Zippy Points.
Surveys are quite obviously the best way to increase your reward points is by answering all the surveys that come to your dashboard. You can earn anywhere between 25 to 250 Zippy Points for the successful completion of a single survey! The points allocated to each survey depends on the length of the survey and the difficulty of the questions.
Please note that we have several filters in place to detect any suspicious activity during the survey. Thus, we encourage our panelists to take their time to answer all questions in an honest manner.
Are you a proud Zippian and want your friends to know how amazing we are? Or are you just a few points short of being able to redeem those Zippy Points? You can become a part of our referral program, refer your friends and family and earn even more! A referral is considered successful when your friend completes at least one survey on our platform. Each successful referral gets you 100 Zippy Points.
Bi-Weekly Social Media Contest
Zippy Opinion maintains an active presence on various social media platforms to ensure we can connect with our panelists on a daily basis. We currently have a presence on Facebook, Instagram, and Twitter  (Do follow if you haven't already). We hold bi-weekly contests on our social media platform to help our contestants earn those extra points. Follow the simple rules of the contest, provide the right answers, and you could earn 300 Zippy Points each day! We also give away vouchers from our reward partner brands such as BookMyShow and Amazon! Look out for these contests.
Perennial Points Platform (Extra Surveys)
Sometimes it may so happen that we don't have any surveys for you. It doesn't happen often, but if it happens, we have you covered. When your dashboard is empty of any surveys, you will find a button that says "Find Surveys". Just click on it to find surveys relevant to you. You can earn between 25 to 250 Zippy Points for completion of surveys through the Perennial Points Platform.
We have a sweet deal for our app users! For every survey you complete using the Zippy Opinion mobile app, you get an additional 50 Zippy Points. Have you installed our Android and iOS app yet?  
Quota full and Termination Bonus
Sometimes, if you weren't able to complete your survey soon enough, the required number of people may already have answered the survey. Or other times, you may not be eligible to answer the survey. In these cases, we reward you with 2 Zippy Points for your efforts.
Are you feeling lucky? Want to cash out big? We conduct sweepstakes, where you can buy a ticket for 500 Zippy Points. Winner gets a huge prize of 2500 Zippy Points!!
So, there you have it. All the ways in which you can earn money through Zippy Opinion! You can redeem every 1000 Zippy Points you earn from us for USD 10. You can opt for vouchers and gift cards worth USD 10 from our reward partner brands such as Amazon, Walmart, Starbucks, and more!